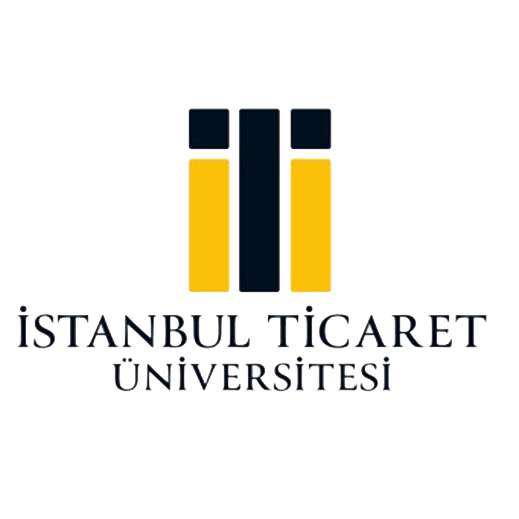 Istanbul Commerce University
Istanbul Commerce University About
Adopting the concepts "Local Identity and Global Vision ; as a principle, Istanbul Ticaret University was founded in 2001.
With its 133-year history and businessmen representing the half of Turkish Economy, Istanbul Chamber of Commerce is one of the most powerful chambers of the world.
Istanbul Ticaret University combines the university with the business world, has been preparing its students to the future with more than 300 professional and prominent faculty members.
Istanbul Ticaret University, one of the first foundation universities of Turkey, has privileged training programs, professional and prominent faculty members, technical facilities. Our university started education in 2001-2002 academic year with 73 students, celebrating its 14th anniversary with the number of students counting more than 7400 as of today.
The University is in the center of Istanbul, which is one of the capitals of culture in the world. Campuses; are located in Kucukyali and Sutluce on the shore of Golden Horn, historical peninsula, in the midst of historical locations, almost beside the commercial centers.
With six faculties, Graduate Schools of: Social Sciences, Science and Engineering, Finance and Foreign Trade and English Preparation school, Istanbul Ticaret University has an important place in academic world with national and international activities held each year, and with its academic studies as well as its publications.
Istanbul Ticaret University's mission is to discover, preserve, and disseminate knowledge, produce creative work, and promote a culture of broad inquiry throughout and beyond the university community, through public service, to enhance the lives and livelihoods of students.
Istanbul Medipol University About
Istanbul Commerce University Faculties Majors
Faculty of Architecture and Design
Architecture

TR
Interior Architecture and Environmental Design

EN+TR
Faculty of Business
Banking and Finance

EN+TR
Business Administration

TR EN
Civil Aviation Management

TR
Economics

TR EN
International Logistics EN+TR
International Trade

EN+TR
Faculty of Communication
Media and Communication Systems

EN+TR
Public Relations and Advertisement

TR
Visual Communication Design

TR
Faculty of Engineering
Civil Engineering

TR
Computer Engineering EN+TR
International Trade

EN+TR
Faculty of Communication
Media and Communication Systems

EN+TR
Public Relations and Advertisement

TR
Visual Communication Design

TR
Faculty of Engineering
Civil Engineering

TR
Computer Engineering EN+TR
Istanbul Medipol University Faculties Majors
Faculty of Social Sciences
Accounting and Auditing

(With a thesis) (Without a thesis) TR
Advertising and Strategic Brand Communications

(Without a thesis) TR
African Studies and International Relations

(With a thesis) (Without a thesis) EN
Applied Psychology

(With a thesis) (Without a thesis) TR
Applied Sociology

(With a thesis) (Without a thesis) TR
Business Administration

(With a thesis) (Without a thesis) TR EN
Business Analytics

(Without a thesis) TR
Cinema

(Without a thesis) TR
Digital Economy and Marketing

(Without a thesis) TR
Economics

(With a thesis) (Without a thesis) TR EN
Human Resources Management

(Without a thesis) TR
Industrial Policy and Technology Management

(Without a thesis) TR
Logistics Management

(With a thesis) (Without a thesis) TR
Marketing

(With a thesis) (Without a thesis) TR EN
Media and Communication Systems

(With a thesis) (Without a thesis) TR
Political Science and International Relations

(With a thesis) (Without a thesis) TR
Public Law

(With a thesis) (Without a thesis) TR
Public Relations

(With a thesis) (Without a thesis) TR
Sports Law

(With a thesis) (Without a thesis) TR
Tourism Management

(With a thesis) (Without a thesis) TR
Graduate School of Finance
Banking

(With a thesis) (Without a thesis) TR
Capital Markets

(With a thesis) (Without a thesis) TR
Insurance

(With a thesis) (Without a thesis) TR
Insurance and Risk Management

(With a thesis) (Without a thesis) TR
International Banking and Finance

(With a thesis) (Without a thesis) TR
International Finance

(With a thesis) (Without a thesis) EN
Graduate School of Foreign Trade
Commercial Diplomacy

(With a thesis) (Without a thesis) TR EN
Global Marketing and Brand Management

(With a thesis) (Without a thesis) TR
International Commercial Law and the European Union

(With a thesis) (Without a thesis) TR
International Trade

(With a thesis) (Without a thesis) TR EN
Instutute of Sciences
Computer Engineering

(With a thesis) (Without a thesis) TR EN
Cyber Security

(With a thesis) (Without a thesis) TR
Electrical and Electronic Engineering

(With a thesis) (Without a thesis) TR
Engineering Management

(With a thesis) (Without a thesis) EN
Fashion Design and Textile

(With a thesis) (Without a thesis) TR
Industrial Engineering

(With a thesis) (Without a thesis) TR
Interior Architecture

(With a thesis) (Without a thesis) TR
Jewelry Engineering

(With a thesis) (Without a thesis) TR
Mathematics

(With a thesis) (Without a thesis) TR
Mechatronics Engineering

(With a thesis) (Without a thesis) TR EN
Real Estate Development, Urban Regeneration and Planning

(With a thesis) (Without a thesis) TR
Statistics

(With a thesis) (Without a thesis) TR
Urban Systems and Transportation Management

(With a thesis) (Without a thesis) TR
Istanbul Commerce University Phd
Faculty of Social Sciences
Accounting and Auditing

TR
Business Administration

TR EN
Industrial Policy and Technology Management

TR
Marketing

TR
Media and Communication Systems

TR
Political Science and International Relations

TR
Public Relations TR
Sports Law

TR
Graduate School of Finance
Banking

TR
Financial Economics

TR
Insurance and Risk Management

TR
Graduate School of Foreign Trade
International Commercial Law and the European Union TR
International Trade

TR
Graduate School of Science and Engineering
Computer Engineering

TR
Electrical and Electronic Engineering

EN
Industrial Engineering

TR
Statistics TR